Greetings dear soul family
An exciting service of Custom Light Language Art – Soul Codes & Transmissions that connects one to their soul level. It is a set of codes that contains relevant information and transmission that assist you in aligning with your soul remembrance and current higher state of being. This comes together with a short recording of Light Language Transmission in for of a recording.
This service takes three days or more. I will be connecting with your higher self, oversoul and guides bringing a set of codes which is relevant and assists you in your highest state of being. I then move into painting; working with watercolour and sometimes gold acrylic on 100% cotton paper in anchoring light language , colours, forms and energy. When the painting is done, I will then connect deeper into your set of Soul Codes, higher self and team once again to bring forth messages and Light Language transmission in strengthening the connection and anchoring the energy into your awareness. This will be sent to you in form of a short recording of 15 mins.
With this package, you will be able to meditate and tune into your custom art and Light Language transmission.
You will receive:
The digital copy of your codes and a short recording of Light Language transmission and messages which assist you in connecting deeper with the given codes will be emailed to you.

Original piece painted on 100% cotton paper, approx 10 x 14 inch. This will be shipped to you from Thailand with standard mail and tracking number. Shipping usually takes up to two weeks, sometimes four, depending to custom process in your country. Tracking number will be emailed to you also.

Please note: in case of return due to unclaimed or incorrect address provided by customer, reshipment cost will be requested.

Tips in taking care of your painting: store in a dry place, framing is highly recommend .
Booking is now full. This service will be opened again later this year Subscribe for Notification
Exchange: 216 USD
Examples, Gratitude to clients who allow me to share these. 🙂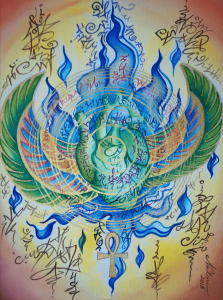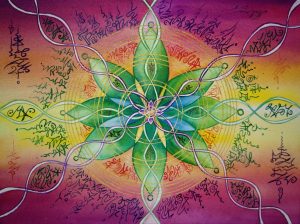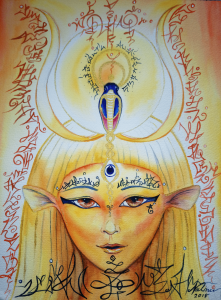 SUBSCRIBE for news updates through my first website