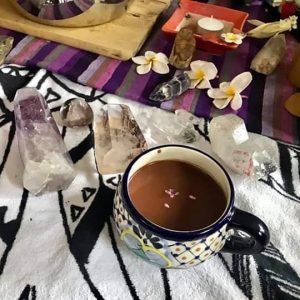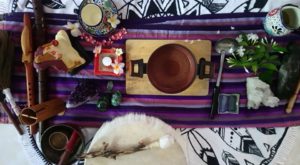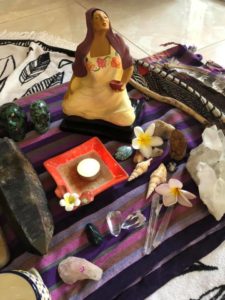 Shamanic Journey & Healing with Mama Cacao
Private Online Cacao Ceremony with Nalinee
Testimonial (Full Testimonial is Below)
"..The journey with Nalinee was nothing short of amazing……It was a very emotional journey for me but never once did I feel uncomfortable or unsafe in her presence. I felt very comforted like a cradled child and walked out feeling tremendously renewed. I love the space that she had created for us for the day as well. It was very calming, peaceful, and absolutely gorgeous…"
This is an excited new extension of my cacao service to you. An opportunity for us to meet online via zoom meeting and journey together with guidance of Mama Cacao to unlock what is needed to be seen, release, transform and nurture.
Here I provide a safe and intimate space of transformation. Together with clarity, relaxation, love and gratitude that mama cacao inspires, we journey inwards.
What is Cacao Ceremony?
From the Olmec, Aztec to Mayans, many tribes have different stories and traditions in working with Cacao. Here I offer supportive and meditative space to go inwards engage with voice of higher self through spirit of mama Cacao.
Similar to other plant medicines/ teachers; Cacao takes us inwards. Mama Cacao especially invites us into the place of our hearts. Meeting and embracing all that we are which includes suppressed emotions. Not only that Mama Cacao remind us of gratitude and harmony. She also helps us in birthing new ideas, inspirations and guidance for us to embrace our new self and chapters. Here is a safe, supporting and loving space for you to go into this journey.
There is no magic pill. When working with plant medicines/ teachers, we are the one who are doing the work in integrating and transforming. Plants take us inwards and reflect to us of who we are. It is up to us to do the work and walk the path. When we take actions, we shift too in our physical realities.
Preparing for Cacao Ceremony:
Ceremonial Cacao is a powerful yet simple medicine which does not require any strict diet.
*It is highly recommended to attend the ceremony
on empty stomach or at least two hours after light meal

. Limit dairy product in your meals on that day.
*No Coffee is recommended in that morning and alcohol intake the night before. Plus, stay hydrated.
*Prep your sacred space! Have your journal next to you. This is your "Me Time!"
Note:
*Raw Cacao is slightly acidic (around 5.5-6.5 on PH scale) so make sure you balance out your diet with Alkaline foods.
*Cacao can increase heart rate, thus those with heart conditions are recommended to start with a low dose.
*If you are taking any SSRI medication, cacao is not recommended as it can cause major migraine.
*If you are sensitive to migraine, start with a very low dose. Cacao can increase serotonin in the brain as well as trigger migraine symptom.
Prior to your ceremony:
After booking, we will exchange emails or 15 mins face chat regarding date and time availability and intentions for your ceremony.
Within this 90 minutes journey:
Guided meditation to journey inwards.

Sound & Light Language Healing and Activation.

Delivering messages of guidance for empowerment, release and transformation.

All will be recorded and delivered to you after the session.
What you will need:
Zoom app (free download)

Ceremonial Grade Cacao (after booking, we will exchange emails to organise the time and I can advice you where to find your cacao)

If you are in Bangkok and wish to purchase a portion of cacao from me, I can provide heirloom ethically sourced Peruvian Ashaninka Cacao for your ceremony.

Good internet connection

Private space where you will not be interrupted. (This is a sacred moment and space you are giving to yourself!)

Journal to write down what comes up during your journey.
Exchange: 88 USD Special (around)53 USD =

1,700 Thai Baht

(You are paying in Thai Baht)
This price includes: 90 mins journey & recording of the session.
We can select a time (date may be vary according to time differences)
– 24th June Thailand Indochina Time.
– 5th July Thailand Indochina Time.
– 15th July Thailand Indochina Time.
– 29th July Thailand Indochina Time.
*Because of time difference, you will receive a confirmation email of your ceremony
after payment within an hour to 24 hours.

Gratitude for your understanding and patience in advance.
Here is a vdo on How to Prepare Cacao and Space for Ceremony
Full Testimonial:
*Gratitude to a sister who took time to write such a detailed review!
"I've just had a private cacao session with Nalinee because I felt that it's what I needed to set the tone for this new year with my goals and objectives that I'

ve never successfully met. I have been living a life driven by fear and chose that that's the life I no longer wish to live.
The journey with Nalinee was nothing short of amazing. What I loved was she took her time to sit down (video call) and discuss the things I wanted to focus on and what I wanted to let go, as a pre-ceremony exercise where I can go away for a week and journal and take the time to think about what I really want. To do the work first by myself. This is what I like about her, she is not going to be your clutch and make you dependent for the rest of your healing journey. The core of the work is on you.
On the day of the ceremony we first discussed what I wanted out of the session and how we will work together to get there.
What I truly love about her is her energy. I've always felt very comfortable around her like I'm in my own skin (which is something I've always struggled with), no judgment, only acceptance and love. She made me feel safe. I initially didn't understand in-depth, what we would actually be doing that day. I like that she took the time to explain everything to me and guided me through all the things that I needed to work on; from past programming, getting centered and connected to myself again, etc. She also explained that this is not a pill-popping fix or a band-aid. I will have to put in effort to continue to work on the things we have discussed post-ceremony.
It was a very emotional journey for me but never once did I feel uncomfortable or unsafe in her presence. I felt very comforted like a cradled child and walked out feeling tremendously renewed. I love the space that she had created for us for the day as well. It was very calming, peaceful, and absolutely gorgeous. She also made a super yummy fruit salad for the both of us after we concluded the ceremony!
Thank you so much Nalinee for you. I have always appreciated your presence, your guidance, and your belief in my path to my own purpose. Thank you a million times over."