Description
*For in-person 1hr session in Bangkok, feel free to email me @ happymacdougall@gmail.com for booking.
(please kindly note that price for in-person session is different from online)
Ahoy brothers and sisters. I have created this service out of passion I have for helping people with sound healing.
The tools I use are the didgeridoo, drum, shaker, native flute and other musical elements to create a powerful loving sound journey for you.
What you will receive:
40 minute recording of card reading and sound journey

(please make sure you download it to your computer)
*Note:
You will receive a confirmation email within 24hrs after payment. Gratitude for your patience
*This service is available for booking
My Youtube:
About me: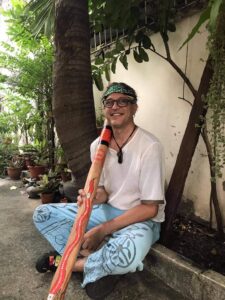 "My name is Michael. I am from South Africa. I have chosen the didgeridoo as a tool to harness vibration as a healing technique. The benefit of the Didgeridoo is that the sound and vibration mimic the earth's sound and vibration, therefore, bringing you to come back into yourself. To help bring up any questions you may have about yourself. It also helps you to understand self-healing. This is why I have joined with my wife Nalinee to bring this amazing healing of sound and vibration. To take you on a journey of healing from within," Michael