Come and share the sacred space of joy and love with me
from various podcasts.
LOVE SPEAKS LOVE 26: Nalinee Diosara 17.6.20
INNER PEACE with DENIS
This talk and light language that came through was such a high vibe..come and tune in
TalkingStickShow #9
Nalinee Diosara – Scribe Of Light Language
"Light Language, Lyrian , cacao ceremony & plant medicine

🔥"
Light Language, Plant Medicines and Art
A lovely Chat with Gia Trionfo Hooper, Host from Multidimensional Living
Here sharing an interview with the Host – Gia. This interview was live on Multidimensional Living Facebook Group.
EPISODE 3: Channeling Light Language & Compassion
In this episode, Bangkok-based healer and light language artist, Nalinee Diosara discusses her journey to discovering higher consciousness messages, the akashic records, and holding ceremonial space with sacred cacao plant medicine.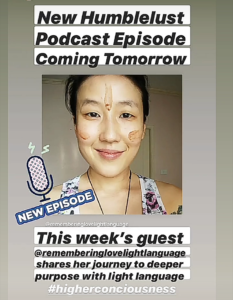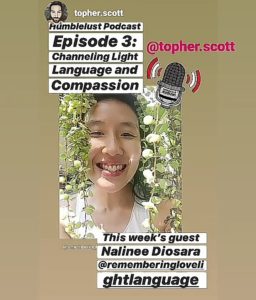 The Matters: Mind The Unseen Heart
Why Art Matters – Art & Mental Illness
Sharing a Short Introduction of an Exhibition that I am so honoured to be one of the featured Artists and guided a short meditation there.
Gratitude to Gabriela Moriarty the heart and curator of the exhibition and Liam J Anderson for this lovely VDO.
The Freedom Network with the host Seanin Mouland 11th Dec. 2019
We chat via heart space & authenticity regarding current energies and process of self mastery as well as working with plant medicine. Include, guided meditation & Light Language Transmission
Samadhi Speaks: 11.11, Lyran Light Language with Nalinee
The Freedom Network Live
with Seanin Mouland
Topics: Awakening Journey, Shifts of Post Atlantean energies & Self empowerment, Plant medicines and more..
The Quantum Light Consciousness Show
with Jerrel Christopher
Topics: Creative flows, Inner Child, Mindfulness and Stillness of the mind, and more…

Episode 10: Starseeds, Soul Origins, Light Language and Lion's Gate 2019 Energy
The Soul Awakening Podcast with Kat Fowler
Unleash Your Inspired Voice Youtube Channel
with Peter Clark Nelson
Soulspeaks5D @ SoulogyOnestudios
with Todd Medina