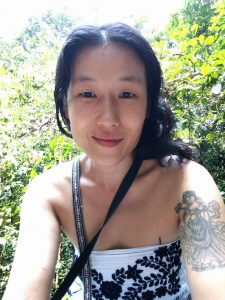 "My main objective is to show the way to state of self-empowerment, love, creativeness and gratitude within the heart,"
Nalinee
Nalinee is a scribe of light language and conduit of All.
Nalinee sees life, nature and plant medicines as teachers. From personal journey of transformation and experiences from Amazon. She combines her passion for light language, artistic gifts and love for indigenous and shamanic cultures into her healing practices.
Both in visual and sound, her works vibrate on the soul level and reflect multi-dimensional facets. With her powerful yet gentle transmissions; she guided many to state of peace, empowerment and gratitude. Transmissions that she delivers healing, clearing, DNA activation and also soul remembrance.
Nalinee also facilitates Cacao as medicine of love and gratitude. Her ceremonies assist many with intimate experience, purity and love. Inspiring transformation, release, and anchor new inspirations.
Her objective is to assist others on their spiritual journey through; inspiring creative and artistic expressions as well as cultivating love, gratitude and self-empowerment.