Description
Private Workshop of Five Sessions
In-person or Online
Connecting deeper with Intuition & Spirit Guides
Opening up to Channeling in your own Authentic ways
Welcoming all levels and experiences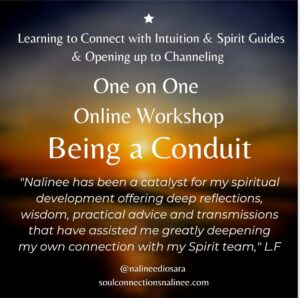 *If you wish to schedule 20 mins chat to find out more about this workshop or whether this workshop is for you, feel free to email me @ soulconnectionsnalinee@gmail.com
Who is it for:
– Feeling the call to connect with their intuition and spirit guides
– Having the desire to explore their authentic state of being a conduit in a safe space
– Opening up to channel
– Having the desire to practice channeling for themselves & others.
– Deepening their connections with inner guidance and spirit guides.
I decided to open this workshop for private one-one-one which cater for those who cannot join our group workshop due to time zones.
(If you have taken the group workshop and would like more experience with me one-on-one, email me: soulconnectionsnalinee@gmail.com )
Objectives:
(Please note that this workshop is designed to focus on and honour each unique individual process. So, the objectives and aims may vary)
Practising neutralising energy and focus
Embracing the path of knowing thyself
Connecting deeper with Intuition and spirit guide(s)
Exploring the state of being a clear conduit and introduction to channelling
Building deeper connections with your guides in your own unique ways
Gaining the practice of allowing spirit guides to deliver their messages
Practising channeling messages for yourself and others
Integrating the state of being a conduit into their daily lives, healing & spiritual services
This private workshop comprises of
five (60 – 75 mins) sessions.
Plus, join our reunion group channeling sessions with other participants, connect with our community and practice channeling for others.
We will meet in-person or online via zoom. Depending on your choice.
Replays will be provided for online.
What you need for online:
– Zoom app
– Good quality headphones/earphones (if any for better sound quality)
Scheduling your sessions:
*If you wish to schedule 20 mins chat to find out more about this workshop, feel free to email me @ soulconnectionsnalinee@gmail.com
– You will receive the confirmation email from me within 24 hours after payment.
– We will find the common practical time and dates.
*if you are curious about timing of current availability, feel free to email me – soulconnectionsnalinee@gmail.com
Payment:
Your can pay one time straight away through this page.

For

Thai bank transfer

, please email me at soulconnectionsnalinee@gmail.com

Two Payment plan can be offerd. Please also email me regarding this payment plan
Any question, feel free to contact me at soulconnectionsnalinee@gmail.com