Description
42 LIGHT LANGUAGE ORACLE CARDS
& 173 PAGES
E-BOOK/ DIGITAL GUIDEBOOK
SHIPPING WORLDWIDE!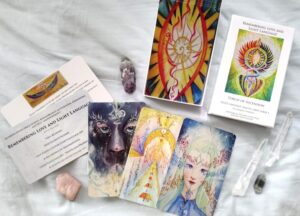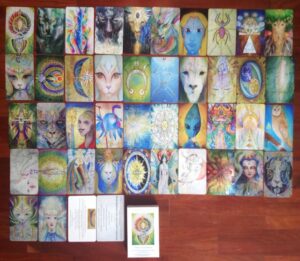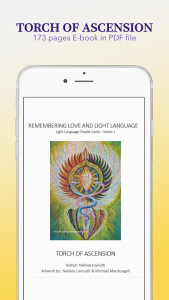 SAMPLE PAGES OF E-BOOK/ DIGITAL GUIDEBOOK
One of my Highest Excitement at this moment. DEEP GRATITUDE to everyone who has inspired and supported this project: Light Language Oracle Cards – Torch of Ascension is completed. ?
This deck is a collection of light language art that was done over a 3 year period. I have included some of my partner's colourful and powerful paintings in this deck as well. A loving collaboration and share of joy from our hearts.
ABOUT THE DECK & E-BOOK
TORCH OF ASCENSION: 42 ORACLE CARDS + 173 PAGES E-BOOK/ DIGITAL GUIDEBOOK (in printable PDF format)
SHIPPING FEES WITH TRACKING NUMBER INCLUDED
The images are printed on large-sized ( 3.5 x 5.75 inches), 330 grams superior smooth and durable cards. There are 42 oracle cards.
The E-book or Digital Guide book contains messages and words of the codes and beings that are depicted in each card. Words from my oversoul, spiritual team, and heart. The book comes to you in form of 173 pages E-book as a guide book, PDF format. It is printable for your personal use. ?
I wish from the bottom of my heart and highest intention that the cards and book will assist many on their spiritual paths from self-empowerment, inspiring creativity, to strengthen love and unity within and all around.
This feels very much like a special DIY project that birth into form. Here, I send a tremendous amount of love and appreciation for your resonance, support, and inspirations. THANK YOU!
Testimonials:
"I consider these cards to be one of the most sacred "things" in my home," from Pat
"I am a healer and I highly recommend buying her Torch of Ascension Card Deck. It awakens dormant parts of you, plus the artwork and Light Language writings are truly magnificent!!! It is the best card deck I own, and I own a lot of them!" from Liliana
"Just got my card deck from Remembering Love and Light Language. The art and messages are so potent and stunning. I love them, Nalinee," from Monica
"I Got These Gorgeous And Lovingly Crafted Oracle Cards In the Mail Yesterday! I ADORE THEM SO MUCH! They're filled with Such Embracing Love! I cleansed and hugged each one!? They're so precious! Thank You Infinitely! I did my first reading last night and another this morning, for my husband and I. Highly powerful connections here! I'm so grateful to have invited these beautiful creations into my sacred space! I feel the acceleration coming for great change! Namaste, Dear Radiant SiStar!," from bright celticmoonlight
TO ORDER:
Click the button below to make payment of 68 USD (shipping fees included)

Please leave your Phone Number + Full Postal Address (for shipping details) in check out message or email me: soulconnectionsnalinee@gmail.com

Please check your email for the E-book/ Digital Guidebook downloadable link which will be sent to you through your email plus the shipment dates of the cards. *(if your contact email is different from the one you registered with paypal, please kindly contact me for your email. )

** I request for your understanding and patience due to the time difference. You may receive an email from me within 10 minutes or up to 10 – 12 hours.

*Customer is responsible for their country's customs tax