to receive invitations via your email
Please scroll down for November Bangkok & Online Cacao Ceremonies
"

For anyone who wants to experience cacao ceremony,
I strongly recommend this event.
I just had my first ceremony and OMG it was super powerful,"
Peter
Bangkok November Ceremonies
EXCHANGE:

800 Thai Baht per person
at Tree Yoga & Cafe Bangkok
3rd November 11 am – 1 pm: Connecting with Spirit of Mother Earth
& 15th November 2 pm – 4 pm: Transformation with New Moon in Scorpio
Reserve your sacred spot, please email me: soulconnectionsnalinee@gmail.com

Online November 11.11 Ceremony
11.11.2020
10.30 am London time, 6.30 am EST, 5.30 pm Thailand time
with powerful sound healer – Kelly Nicholson
More about Kelly:
Kelly is a healer in every sense of the word, holding sacred space for everyone she meets. She has dedicated her life to be a mirror, reflecting to those in her presence the Light that lies within us all. She is an Intuitive Artist, Sound Healer, and Soul Coach. Kelly's offerings express an emphasis on vibration, creating connection and harmony with the undercurrent of colorful energy, WE ARE, at our very core. It is her greatest joy to share vibrational medicine with the world and be a bridge of Healing Harmonic love.
Join & Register:
EXCHANGE: Donation Base $0 – $44 USD
(Pay what you can – Free, Donation is highly appreciated!)
REGISTER: via email:

soulconnectionsnalinee@gmail.com
Download Zoom App for free

Have good internet connection

Create your sacred space and bring your intention. (VDO on prepping your cacao and space is at the bottom of this page)

Prep Ceremonial grade or Raw Cacao, If you don't have any, bring your favourite tea!! Everyone is Welcomed.

Cacao Dosage for this ceremony: from 28 – 35 grams/ cup. If you are joining at night time, go for a lower dose as cacao may keep you up at night.

If you are in Bangkok and wish to purchase a portion of cacao from me, I can provide heirloom ethically sourced Peruvian Ashaninka Cacao for your ceremony. If you are located some where-else, I can perhaps advise you great providers that may ship to your location.

CONTACT ME: soulconnectionsnalinee@gmail.com
Any question please CONTACT ME: soulconnectionsnalinee@gmail.com
(*You will receive a reply within one to 24 hours. Thank you for your patience)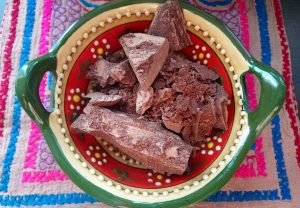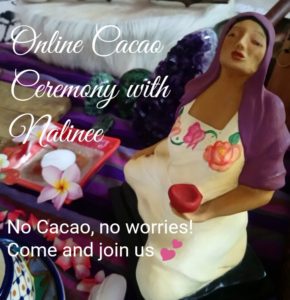 The core objective of this online group ceremony is to assist one another with love and support in releasing heaviness and anchoring presence of love, clarity, and gratitude into our beings and lands.
Online Ceremony will be held via Zoom meeting.
*If you are looking for More Intimate, Deeper Journey and Healing with Mama Cacao, please check out Private Online Cacao Ceremony
What is Cacao Ceremony?
From the Olmec to Mayans, many tribes have different stories and traditions in working with Cacao. Here I offer supportive and meditative space to go inwards engaging with the voice of higher self through the spirit of mama Cacao.
Ceremonial grade Cacao has medicinal properties in relaxation, clarity, blissful feelings and love. Spirit of Cacao invites us into the place of our hearts. Meeting and embracing all that we are which including suppressed emotions. Not only that Mama Cacao reminds us of gratitude and harmony. She also helps us in birthing new ideas, inspirations and guidance for us to embrace our new self and chapters. Here is a safe, supporting and loving space for you to go into this journey.
There is no magic pill. When working with plant medicines/ teachers, we are the one who is doing the work in integrating and transforming. Plants take us inwards and reflect us of who we are. It is up to us to do the work and walk the path. When we take actions, we shift too in our physical realities.
INDIGENOUS TRIBES & CACAO
Preparing for Cacao Ceremony:
Cacao is a powerful yet simple medicine which does not require any strict diet.
*It is highly recommended to attend the ceremony
on empty stomach or at least two hours after a light meal

. Limit dairy product in your meals on that day.
*No Coffee is recommended in that morning and alcohol intake the night before. Plus, stay hydrated.
*Prep your sacred space! Have your journal next to you. This is your "Me Time!"
Note:
*Cacao can increase heart rate, thus those with heart conditions are recommended to start with a low dose.
*If you are taking any SSRI medication, cacao is not recommended as it can cause major migraine.
*If you are sensitive to migraine, start with a very low dose. Cacao can increase serotonin in the brain as well as trigger migraine symptom.
How to Prepare Your Own Cacao and Space for Ceremony.