Description
Being a Conduit Online Group Workshop (5th Round June – July 2023)
Closed – Until next round!
Activating the state of a clear conduit
Know thyself, Intuition & Channeling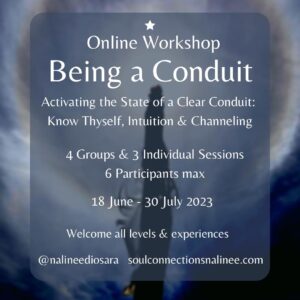 18th June 2023 – 30th July 2023
In your own unique & authentic ways
Includes 4 Group & 3 Private classes
6 participants max
Welcoming all levels and experiences
It is a powerful moment for each of us to step into the awareness of the heart
Into our own unique connections with intuition & spirit guides.
Being clear conduits that bridge harmony between the spirit and physical worlds.
This workshop offers group and private sessions to nurture community support and individual processes.
I will be sharing my experiences and knowledge regarding channeling, connecting with spirit guides and holding space for us to learn from one another.
Also I will be guiding each of you in one on one sessions to unlock your own unique ways of connecting deeper with your intuition, spirit guides and into a state of channeling.
*If you wish for a zoom chat in order to have more clarity whether this workshop is for you or not feelf ree to email me: soulconnectionsnalinee@gmail.com
Objectives:
(Please note that this workshop is designed to focus on and honour each unique individual process. So, the objectives and aims may vary)
Practising neutralising energy and focus
Embracing the path of knowing thyself
Connecting deeper with Intuition and/or spirit guide(s)
Exploring the state of being a clear conduit and introduction to channeling
Gaining the practice of allowing intuition and/or spirit guides to deliver messages
Practising channeling messages for yourself and others
Bringing in channeling to enhance their spiritual/healing services
Group Sessions will cover:
Different states, ways and purposes of channeling

Ways of Connecting with Spirit Guides

Being a balanced channeler/ conduit

Neutralising focus and energies

Mental and Intuition

Channeling for oneself & others

Channeling tools & Creating Space

Holding space while channeling

Group channeling QnA with Nalinee's Guides

Practising channeling in a small group setting
Private Sessions will cover:
Embracing one's unique ways of receiving and transmitting energies and information.

Connecting with intuitions and guides

Individual process of rebalancing and opening up to channel

Exchanging one-on-one channeling.
Date & Time:
If this timing of this workshop doesn't suit you, please check out

One-on-One Workshop
*Time for four 90 min group sessions:
starting at 6.30 pm Thailand (7.30 am EST, 12.30 noon UK) *
Please check your time zones
Group sessions dates are:
18th June, 2nd July, 16th July, 30th July
*Time and dates for three 60 min private sessions will be scheduled individually via email after registration.
Replays will be provided
Special Gathering – we also schedule a reunion with previous participants after each round of this workshop to connect, channel and enjoy the space and time with like-minded and hearted souls.
Exchange:
Full price 380 USD
*Two payment plan total of 400 USD – two invoices will be send to you. Both are to be paid before the workshop ends ( one before the workshop begins and another before the workshop ends)
Thai Bank transfer

, please email me at soulconnectionsnalinee@gmail.com
*If you wish for a zoom chat in order to have more clarity whether this workshop is for you or not feelf ree to email me: soulconnectionsnalinee@gmail.com
Testimonials:
"I am so happy I decided to attend this amazing workshop. Nalinee created a supportive and nurturing environment for learning. Her guidance is invaluable and with her tutelage, I have confidence in my ability to connect with my spirit guides.
It has been a wonderful journey that I look forward to continuing. The workshop was fantastic, as a novice, I was a bit nervous to channel for the group. It was great to learn from the many different channelling styles of the other participants," M.R
"Nalinee is such a joy to work with, a gifted teacher and channel who embodies what she teaches with down-to-earth simplicity, compassion and fun!" L.F
'This is a beyond-the-norm channelling workshop which includes both group teachings and private channelling classes. I really appreciate its clarity, delicacy and versatility – Nalinee's recommendations in the private sessions and sharing skills in group classes. Her loving and joyous approach always makes me feel safe and fully supported. And she is very helpful and open in sharing her channelling experience and tools with us. Highly recommended !" A.C
What do you need:
Headphones/ earphones with a good microphone

Zoom app (free download)

Dedication to participate in this workshop as well as practice in your own time.

Journal/ notebook

Curiosity and excitement in channelling/ being a conduit

Curiosity and excitement to explore your inner layers and connection with your intuitions and guides

The excitement of sharing and learning from others in a group setting
Looking forward to sharing this space with you all 🙂