"Warriors who journey inwards transforming all within with compassion and gratitude
are examples of peace, dedication and humility,"
Nalinee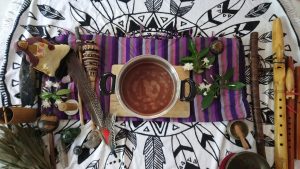 Meditating, Releasing, Transforming, Sharing, Creating with Mama Cacao .
facilitated by Nalinee & Michael as co-facilitator
Bangkok, Thailand
Gratitude for taking a bit of time to read the following.
So that you are aware of the process and what are being offered.
Service to Plant Medicine/ Teacher
My passion is to share plant medicines as teachers that guide us inwards for next level of self love & development, with essence and respect to the ancestors and shamanic practice. This I see as one of my tasks to share the spirit of Cacao or xocolatl (chocolate) for her loving spirit that offers deep healing and connection to the heart.
Cacao ceremony that I offer takes place in my own home for both Private and Group (

capacity of 7 people maximum )
.
I offer ceremonial grade Cacao from Ashaninka tribe, Peru; in shamanic dose. Each purchase of cacao block goes into supporting the tribe.
In this space, we meditate and meet mother cacao in our hearts , in form of inner voice and inspirations. I hold space for us to connect then release and share in form of sound, light language, songs and more.
What is Cacao Ceremony?
From the Olmec, Aztec to Mayans, many tribes have different stories and traditions in working with Cacao. Here I offer supportive and meditative space to go inwards engage with voice of higher self through spirit of mama Cacao.
Similar to other plant medicines/ teachers; Cacao takes us inwards. Mama Cacao especially invites us into the place of our hearts. Meeting and embracing all that we are which includes suppressed emotions. Not only that Mama Cacao remind us of gratitude and harmony. She also helps us in birthing new ideas, inspirations and guidance for us to embrace our new self and chapters. Here is a safe, supporting and loving space for you to go into this journey.
There is

no magic pill

. When working with plant medicines/ teachers, we are the one who are doing the work in integrating and transforming. Plants take us inwards and reflect to us of who we are. It is up to us to do the work and walk the path. When we take actions, we shift too in our physical realities.
Preparing for Cacao Ceremony:
Cacao is a powerful yet simple medicine which does not require any strict diet. Only that it is highly recommended to attend the ceremony on empty stomach
for full effects. Be mindful of coffee (non-dairy is recommended) intake in that morning and alcohol intake the night before. Plus, stay hydrated.
Note:
*Cacao

can increase heart rate

, thus those with heart conditions are recommended to start with a low dose.
*If you are taking

any SSRI medication,

cacao is not recommended as it can cause major migraine.
*If you are

sensitive to migraine

, start with a very low dose. Cacao can increase serotonin in the brain as well as trigger migraine symptom.
During the ceremony:
After welcoming with Mopacho (Amazonian Tobacco) and creating space, we sit and take a moment to connect. Here individual or group

consultant

regarding personal progress and intention takes place.

Meditation – following simple breathing and centering the mind. Welcoming our focus and elf home into our breaths and heart. We connect with the presence of Mama Cacao through the heart feelings, inner voice. Other the voice of plant teacher comes through the voice of our higher self.

Sound is introduced. You all will be assisted in purging, energy release and healing.

We open space for sharing our voice and expression. Sing, Chat, and connect.
Post Ceremony:
We take a moment to tune in, ground and give gratitude to the land and medicines.

I will get into channeling state again to answer any questions that you may have regarding spiritual processes.

Fruits or Fruit salad is offered to keep you hydrated.
Other plant medicines that are offered upon request:
Smudging and grounding with

Mopacho (Amazonian Tobacco)

is offered to everyone.

Sananga eye drop from Puyunawa tribe in Brazil is also available for clearing heaviness and old energy that is accumulated. Sananga & Cacao offers deep alignment of clearer perceptions with the heart – alignment of heart & mind.

Different blends of Rape' (pronounced Ha-pay, Amazonian snuff) is also offered for grounding, increase focus and release negative energy.
What to bring:
Open mind and heart.

Stay Hydrated! This is crucial as intense energy shifts take place in the ceremony.

Drinking bottle though water and glasses are offered, it is always easier to have your own water bottle next to you.

Personal journal is highly recommended to write and make notes of what is learnt and inspired.

Intention.

Optional: crystals to absorb the vibrations of the ceremony.
Testimonial:
" I attended Nalinee's Cacao ceremony and it was first-rate. Yesterday was the second Cacao ceremony I've attended with her. I like the gentle, heart-centered feeling of the cacao – very pure and natural. Nice energy permeates the space as we meditate during the ceremony. …I do recommend Nalinee's ceremonies and channelings for those who are interested. 😃❤️❤️❤️," Randy
*Group ceremony usually takes around 3 hours, sometimes a bit more.
EXCHANGE, Price in Thai Baht:
Private – 1,700 TH Baht To book your Private journey with Cacao Click Here
Group – 700 TH Baht for each person
Next Group Ceremony : 29th Feb 2020 – Leap year Ceremony & Multidimensional Contacts with the Lyran Council.
CONTACT ME for bookings and further details.
Looking forward to sit with you in this space.